Klein High School - November 2022
The SIPES Houston "Maps in Schools" project team of Jeff Lund and Elizabethann de Leon-Maesteas (EA) visited Klein High School in north Houston on November 16. Scott Leaseburge, SIPES Houston Secretary, who graduated from Klein High School had set up the presentation with science teacher Anthony Phillips.
It was a successful presentation with attentive, interested students. Mr. Phillip's classroom was inspiring in that student-prepared diagrams and displays lined the walls with both astronomical and geological topics. Notable were a diagram of a total solar eclipse and a geologic cross section of a mid-ocean ridge diagramming plate tectonic processes. Yeah!
Our traditional PowerPoint presentation discusses the origin and usefulness of geologic maps (thank you William Smith for the original geologic map of the UK, circa 1815). We also did our traditional fossil display which relates paleontology to the geologic time column and lets the students do some "hands-on" fossil study.
Would You Like to Contribute?
SIPES Houston has had an outreach project since 2009 donating framed geologic maps of the United States to schools, primarily in the greater Houston area.
Each of these maps cost $400 - so the more money raised, the many more schools who will have beautiful maps and an educational opportunity from industry vets!
An interesting response came as we discussed the very recent return of Artemis Team astronaut/geologist Jessica Watkins from 6 months on the International Space Station (ISS). We believe Jessica is likely to be the first woman on the moon in 2025 as Artemis3 attempts the first landing in 50 years. She is a PhD Geologist from UCLA, has driven the Mars rovers, is an Artemis Team astronaut (the first to fly on an extended space mission), is African American and is a world class athlete (having played NCAA Division 1 women's rugby at Stanford despite weighing 100 pounds). Jessica spoke at the HGS Scholarship Night event in February 2021 and has been invited back.
The students sitting in the front row of Mr. Phillip's class were young women who were aware of Jessica's trip to ISS but did not know she is likely to be the first woman on the moon. They were excited!
So, SIPES Houston's Geologic Map of the Lower 48 is now proudly on display at Klein High School. A plate dedicates it to late SIPES Member Owen Hopkins, who originated the Maps in Schools program in the SIPES Corpus Christi chapter.
Klein's map is the 23rd map donated by SIPES Houston and our presentation was the 35 we have made since 2010.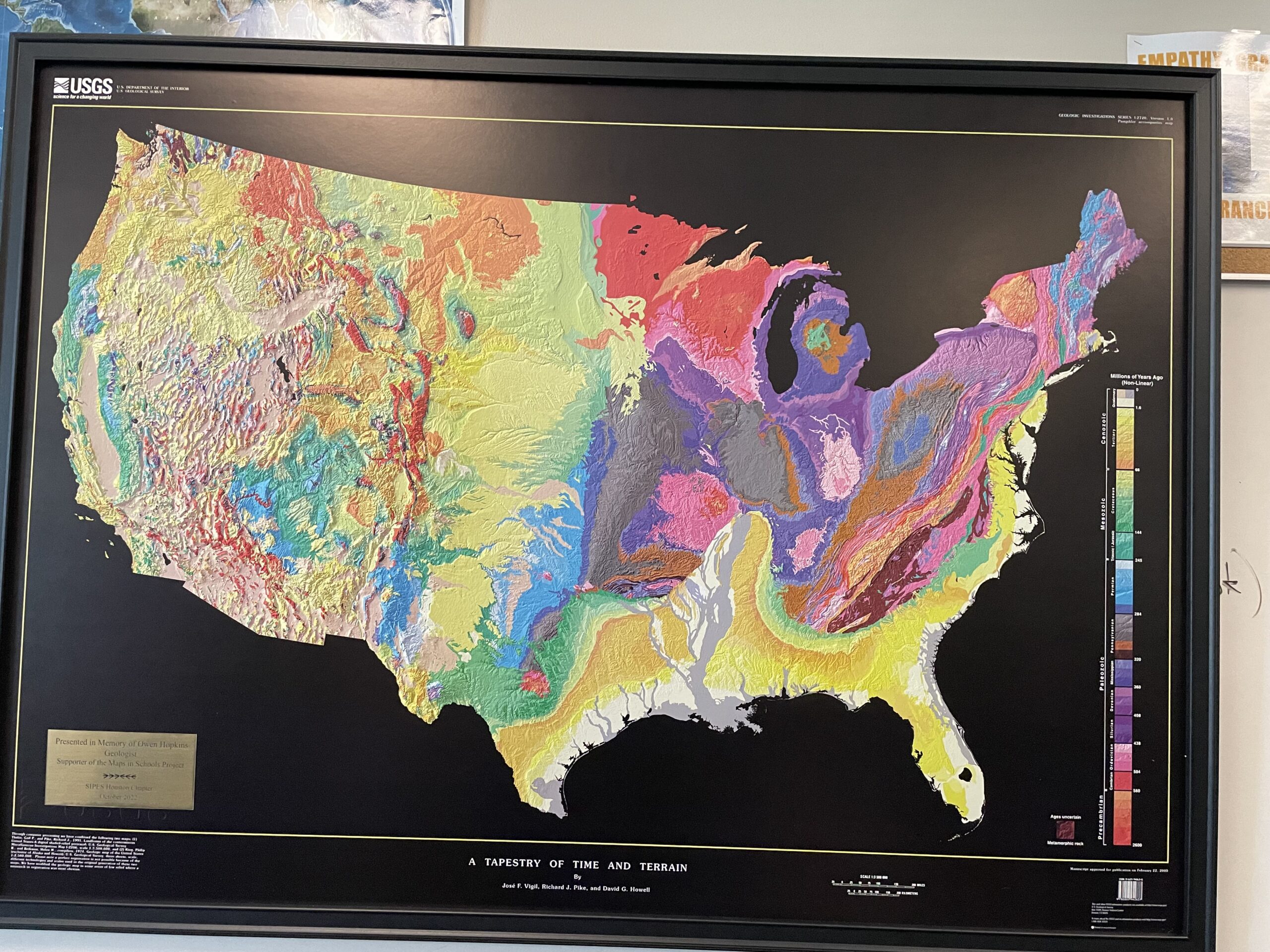 Ramona Schmidt Bang Elementary - March 2022
SIPES Houston has had an outreach project since 2009 donating framed geologic maps of the United States to schools, primarily in the greater Houston area. When we present a map we make a 45 minute presentation about geologic maps, where they came from, what the mean and why they are important to understanding earth. We emphasize the role fossils play in establishing the geologic column and we bring fossils, rocks and minerals so the students can "touch" examples of earth material
Our presentation opens by showing a DVD from the American Geological Institute entitled "Why Earth Science: Because We Live on Earth".
The Houston program has primarily involved SIPES Houston members Jeff Lund, Elizabethann de Leon-Maestas or "EA", past Chair Jeff Allen and more recently Justin Vandenbrink. Justin instigated our "post Covid" efforts by arranging a visit to his daughter's school, Ramona Schmidt Bang Elementary, in the Cypress Fairbanks ISD. Earlier in our history SIPES Houston members Duncan Dubroff and Pat Shannon made pioneering presentations via personal connections to schools.
With younger students such as 2nd graders, we have learned to keep the audience small to maintain their attention. So we elected to make six separate presentations on two mornings to individual classes accompanied by their teacher.
The purpose of our outreach is to have the informative and colorful geologic map serve as a focal point for students, visible in a classroom, hallway or lab, and perhaps stimulate interest in earth science and careers in earth science. This map is created by the United States Geologic Survey from space photography and shows the interpreted geologic age of the bedrock color coded to the geologic column.
The Houston Chapter of SIPES has now presented over 20 maps, and made over 30 presentations (several repeat visits to schools with a map from a prior visit). We have gone primarily to public and private middle schools, high schools and notably to three HISD and one Fort Worth ISD  "Energy Institute" high schools with STEM programs supported by IPAA. We have also made presentations at San Jacinto Junior College, the University of Houston and to the River Oaks Women's Breakfast Club! Besides Fort Worth maps have been sent to a schools in Tulsa and New York City.
In 2021, with the assistance of SIPES Member Linda Sternbach, we recorded an MP4 video of the entire presentation which is now in the IPAA's library of energy related videos available to schools across the country. This allowed the outreach to continue in the face of Covid restrictions on in-person presentations.
The response from the students has been over whelmingly positive. It seems all young people are influenced by the Jurassic Park movies (and know their dinosaurs), are intrigued by the astronaut related stories and have a background in plate tectonics after the 6th or 7th grade earth science unit ! The questions we receive are often quite sophisticated
The cost to frame each map is about $400, supported by the SIPES Houston Board.
Seems like a great investment in the future!
Get Involved
Many thanks to everyone who has been involved, and to several recent Houston Chapter Boards for their support. We will, of course, continuously work to expand the scope to other schools.
We welcome all geological enthusiasts to get involved in Maps In Schools!
Jeff Lund
Jeffrey W. Lund is an independent consulting petroleum geologist in Houston, Texas. He can be reached at jeff.lund@corridoroilandgas.com